Benefits
Consisting of structural LVL flanges and a structural web connected using a Type A waterproof bond, hyJOIST is strong, light and easy to install.
Straight, uniform & dimensionally stable in a lightweight form
Greater design flexibility for an economical floor joist layout

Available in 10 section depths
3 different flange widths
Long lengths up to 13.2 metres

Easier installation of services within the floor space
Easier to install compared to hardwood and steel alternatives
Sourced from environmentally sustainable plantation pine
Stringent quality control
Peace of Mind against terminates – hyJOIST H2-S Terminator
hyJOIST is also available treated (H2-S) for protection against termites and other insects in above ground, weather protected applications in areas south of the Tropic of Capricorn. It gives all the benefits of structural LVL with added termite deterrent qualities.
Backed by a 25-year fully transferable guarantee from the chemical manufacturers
Each beam is treated to the core during manufacture.
Clearly marked with H2-S for ease of identification
Backed by a 25-year fully transferable guarantee from the chemical manufacturers
Suitable Applications include
Floor joists for houses and commercial floors
Roof rafters & purlins for houses and commercial systems (suited to low pitch applications)
HYJOIST DISTRIBUTORS
FREE TIMBER DESIGN SOFTWARE
Field & Product Support
hyJOIST is supported in the field by an experienced engineering support group able to assist with enquiries ranging from design to installation advice.
PHONE – 1800 808 131
Local TECHNICAL MANAGERS
Range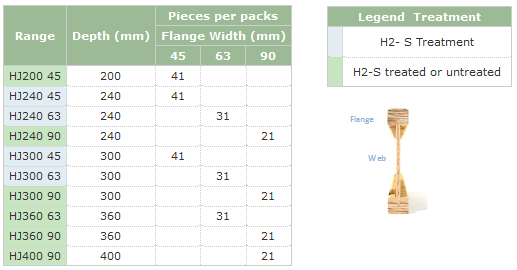 More options for more economical floor joist layouts
Select the economy section (HJ240 45, HJ300 45 & HJ360 63) of appropriate depth to accommodate the spans of the main area of the floor. Cater for any larger spans in the floor area using the wider flange options of corresponding depth.
Click below to find out more or contact us on: John Carroll 0414301515 and Colin Carroll 0421273887
Email for a price or more information: John@carrollswholesale.com, Colin@carrollswholesale.com