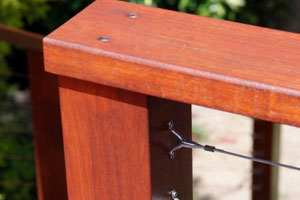 Description: Magna Posts are produced by a licenced manufacturer from small pieces of Kwila timber using a durable, structural glue. They are ideal for use in structures where the beauty of a rich red/brown hardwood is to be expressed or to match Kwila decking, beams or handrails.
They can be used in exposed external environments including bush-fire prone areas and are resistant to termites. They stay straighter are more resistant to knocks than other timbers commonly used in posts. Magna Posts are more attractive than other Kwila glulam posts because they are made using only small number of lamina.
Standard sizes :
Diagram of end-section of all posts showing typical layups and sizes beneath.
Lengths: can be made in any length up to 6m.
Standard sizes :
90×90, 100×100, 115×115, 140×140, 190×190 all DAR with 6mm pencil round edges.
For Western Australia 95×95 & 120×120 DAR with 3mm pencil round edges.
Lengths: 2.4m – 6.0m in 0.3m increments.
Specification :
Timber: Kwila (Merbau) Intsia bijuga
Moisture: 12-16%
Strength: GL13 for 140×140 & 190×190. GL 17 for the smaller sizes.
Adhesive: Phenol Resorcinol Formaldehyde
Service Class: Suitable for Class 3 environments.
Appearance grade: A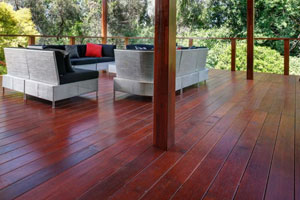 Check Magna Handling, Installation and Maintenance Instruction before using.
Note Magna Posts are prone to resin-bleed on contact with water and so they should be kept dry at all times prior to coating with a deck oil or paint.
Click below to find out more or contact us on: John Carroll 0414301515 and Colin Carroll 0421273887
Email for a price or more information: John@carrollswholesale.com, Colin@carrollswholesale.com